Oral Examinations Near You
A regular oral examination is vital for every patient's ongoing health. A complete oral exam detects issues early on, when treatment is less intensive and expensive. Many of these issues cannot be seen by patients, but a dentist is trained to identify them.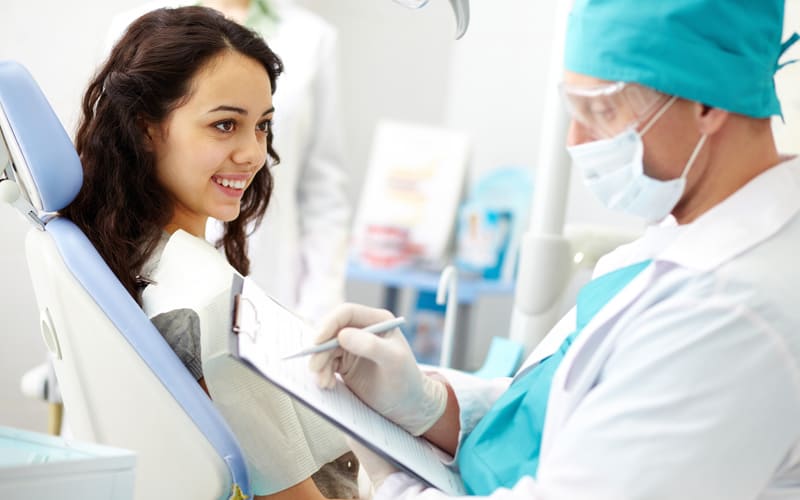 What Happens During an Oral Exam?
First, the patient will complete some minimal paperwork when they arrive at the dental office. The dentist will review the patients' medical history and will discuss any current dental issues. The dentist will inspect the patient's neck area, including the glands and lymph nodes for possible signs of inflammation.
He or she will inspect the teeth next, and take digital X-rays which can show problems such as hairline fractures or impacted wisdom teeth.
The dentist near you will examine the patient's teeth for the following:
Tooth decay
Symptoms of periodontal diseases, such as gum inflammation, redness or deep periodontal pockets
Tooth restoration issues, such as cracked fillings or loose crowns
Bite position
Signs of oral cancer
During an oral exam in Livonia, MI 48152, the dentist will perform an oral cancer screening, this is painless and can be completed in less than five minutes. Dentists believe oral cancer screenings are critical for all patient's health and well-being. The goal of an oral cancer screening is to diagnose mouth cancer early on, when there is a greater chance for a cure. Patients should visit their dentist at least twice a year for an oral exam.
Once the examination near you is completed, the dental cleaning process will begin. During a cleaning, the dental professional will use a scaler to remove accumulated plaque and tartar between the teeth at the gum line. They will also measure the patient's gum pockets, which is the space between the gums and tooth surfaces, and will chart the results.
Lastly, the teeth are brushed using a high-powered electric brush and then flossed to remove leftover plaque or toothpaste from earlier in the process. An expert flossing session reaches deep between the teeth and locates potential trouble spots where the gums may bleed.
Findings of an Oral Exam
Damaged, missing, or decayed teeth
Early signs of cavities
Gum disease
Bruxism or TMD disorders
Early symptoms of mouth or throat cancer
Suspicious growths or cysts
The dentist in Livonia, MI 48152 will discuss their findings with the patient and any needed restorations. This also gives the patient the opportunity to discuss any cosmetic concerns they may have so that a customized treatment plan can be made.